Dental Implants
Dental implants are done to permanently replace teeth that are rotten or missing. Implants are made up of titanium metal which lessens the possibilities of any infection. We at Mumbai dental clinic & implant center provides various kind of dental implants for different patients.
Process How Its Done ??
When you visit to us for replacement of missing teeth in Udaipur at our any of the branches at Madhuban or sector 14, Udaipur our expert dentist in Udaipur check the bone and condition by clinical and radiographic examination.
Once the examination is done which type of implant, time, cost, and duration is also explained to you. There are several types of implant systems that are being used at our clinic by our Implantologist Dr. Siddharth Jain.
Implant surgery is a most effective and convenient process in which missing teeth can be replaced and all the functions like eating food, aesthetics can be restored properly.
Types Of Dental Implants :
Conventional single/ multiple tooth dental implants
All On 4 Dental Implants
All On 6 Dental Implants
Zygomatic dental implant
Ptrygoid dental implant
Basal dental implant
Single/ Multiple Tooth Implant :
It takes a minimum of 3 months to complete, but the result is worth it. Bone Quality is determined and implant placement is done by our Implantologist Dr. Siddharth Jain to replace single or multiple teeth. If the bone is slightly weak the along with implant placement bone grafting is also done. Single or multiple implants can be done immediately after the extraction of the teeth. This is determined by the evaluation of your bone. On multiple implants, fixed prosthesis or implant-supported overdentures can also give. Our dentists explain to you all the options once you visit our clinic in Madhuban or Sector 14, Udaipur.
1. Placement of the Implant
The placement of a dental implant necessitates surgery. It is usually performed under local anesthesia. To expose the bone, the dentist will make an incision into the gum. Then, insert a metal implant into holes bored into the bone.
2. Placement of the Abutment
The dentist may insert a healing cap after the implant has properly bonded with the bone after 3 months. It aids in the proper healing of the gum tissue, which usually takes 1 – 2 weeks. After 2 weeks Abutment is placed.
3. Placement of the Crown
The dentist will take a final impression before fabricating the crown. It will be cemented or screwed to the abutment to keep it firmly in place. The patient can clean this new single tooth or multiple teeth as any other teeth to keep the gums healthy. Depending on the situation, several of these processes may be combined.
What are All On 4 and All on 6 Dental Implants?
The All on 4 and All on 6 implants is a dental rehabilitation solution that gives you a new set of teeth supported by four implants in each jaw. It improves the look of a patient's teeth and their functionality.
This treatment procedure is a least invasive surgical solution with a fixed full-arch restoration. It serves as a more permanent and natural-looking replacement for dentures. You don't have to replace each lost tooth individually with All on 4 and All on 6 implants
The dental implants are put in strategic locations of the jaw where there is more available jaw bone, avoiding the need for expensive and time-consuming bone grafting and sinus lifting procedures.
The All on 4 implants makes it possible for you to replace a complete set of teeth with a simple, effective, and reliable solution.
Zygomatic and Pterygoid Implant :
These implants need a very specific kind of surgery to place them intraorally. In every case, these implants are not done. Where bone is very less and all other implants can not be done then Zygomatic and Pterygoid implants are done especially in the upper jaw to replace the missing teeth with fixed prosthesis. These implants can be placed in the jaw in association with other conventional and basal implants.
Now Basal Implants :
Our dentist will first analyze and determine the bone quality using high-quality 3D scanning methods. If you need immediate restoration of functions and aesthetics basal implants are best. In Udaipur at both branches, basal implants are done by our experts.
After administration of anesthesia, the dentist will place the implants in the thick cortical bone. The number of basal implants is decided and implanted based on the amount and quality of bone present. After that, the implants are secured in place.
Our dentist takes the impression of the jaws along with the implants and fabricates the prosthesis. Then, the dentist will fix the prosthesis with basal implants using and adjust it to give the perfect natural feel.
It is an immediate process of restoration where the quantity of dental implants is more because basal implants are usually single-piece dental implants and are subjected to restoration immediately.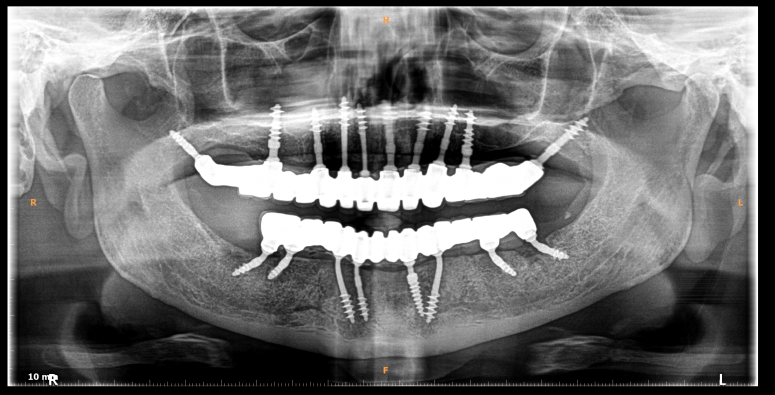 Functioning of implants:
A permanent replacement for the missing teeth.
Functions like natural teeth.
End the need of wearing dentures and claps which prevent damage to gums and other tissues.
No need to wear any adhesives for dentures.
Once it is fixed, it is not movable so no worries for removable dentures.
FAQ:-
Q. Can I brush dental implants?
A. Yes, you can brush them just the same way you would brush real teeth.
Q. My dentist told me to use water floss with implants. Where can I get them?
A. You can purchase a water floss from the local pharmacy or online.
Q. What is the best way to clean dental implants?
A. The best way to clean dental implants is dependent on individual cases. However, the procedure can be used on all dental implants.
Q. What are the best dental implant cleaning methods?
A. Regular brushing, flossing, and mouth rinsing are some of the best dental implant cleaning methods.
Q. Do dentists offer cleaning of dental implants?
A. This is a basic procedure that you can conduct at home. However, depending on the merit of your case, your dentist might be able to help you.
Q. How do I clean full mouth dental implants?
A. If you need to clean full mouth dental implants, you can use the common mouth cleaning procedures such as brushing or flossing.
Our Expert :
Dr. Siddharth Jain
He is the Soul of this dentistry practice. A proficient dentist and Implantologist, Dr. Siddharth comes with over 10 years of rich experience and niche skills in his field. His mission is to provide comprehensive dental services to all patients in an environment that is safe, reassuringly pleasant, and comfortable. Dr. Jain's expertise goes beyond routine cases, into Implantologist, Laser surgeries, etc. He believes in constantly upgrading his skills and regularly attends conferences and workshops to keep abreast with the latest technology.
He is a Member Of IDA, DCI, ISOI, and many more renowned associations of dentistry.
Book an appointment today with us :
+918107259893/0294-2415893
Mumbai Dental Clinics